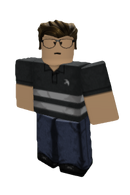 Rick is a speedy character as he can dodge obstacles easily with his quick roll which proves infinite defense apparently.
Abilities: Spawn with dodge roll
Rank Unlock: 1
Amount of uses: 5

Rick's name and ability is greatly based off of "Never Going to Give You Up by Rick Astley"
Having the ability to roll, it allows Rick to roll over small obstacles like small walls and though broken windows.
Rick's rolling ability can be use more than the player's ability one.
Ad blocker interference detected!
Wikia is a free-to-use site that makes money from advertising. We have a modified experience for viewers using ad blockers

Wikia is not accessible if you've made further modifications. Remove the custom ad blocker rule(s) and the page will load as expected.