Jacqueline's Info Edit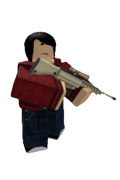 Jacqueline is a marksman with great accuracy, her goal is to take down any target with ease and precision. Her sniper can shoot through walls on rare occasions and do collateral damage, but watch out, she can only handle one target at a time and does not fair well in crowded fights.
Abilities: Spawn with sniper
Rank unlocked at: 5
Amount of uses: 2
Jacqueline's appearance is based off Zoey from Left 4 Dead.
Jacqueline can kill more than one enemy with one shot.
Jacqueline's Sniper can shoot very far, like Vaan's Heavy Pistol.
Jacqueline can not handle a target if she is in close-range.
Ad blocker interference detected!
Wikia is a free-to-use site that makes money from advertising. We have a modified experience for viewers using ad blockers

Wikia is not accessible if you've made further modifications. Remove the custom ad blocker rule(s) and the page will load as expected.